Göran Löfwing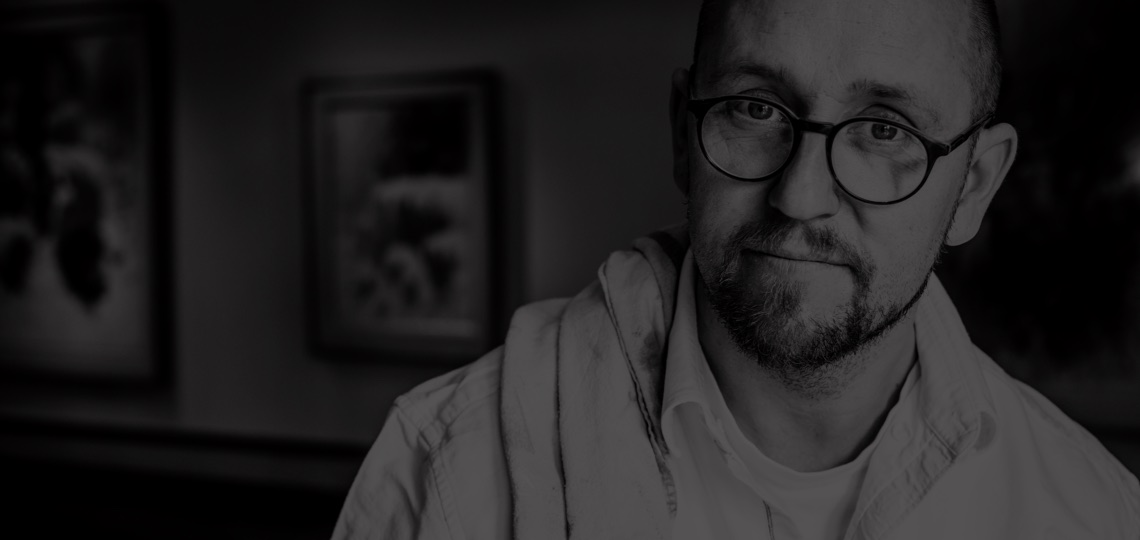 Göran Löfwing
He belongs here. Probably because he has tried so hard to do so. Göran has never lived more than two kilometres from here. He is as much a part of the local landscape as the rugged Västergötland plateau, described by linguist and traveller Richard Ekblom as resembling a giant Moorish village.
Göran grew up in Sätuna. There in the community centre, he had his first exhibition at the age of 12. His work depicted geese in the sky, buzzards over a forest glade and moose in the snow, all in small meticulously crafted stylised landscapes, reminiscent of those of Helmer Osslund.
He still has some even earlier pieces; well-thumbed drawings by a child, including two moose struggling in snow, a cow with her calf and a rock carving by his own ancestors. As a child Göran wasn't keen on reading and writing. But the boy from Isaksgård farm could paint and draw.
And he has always continued to do so. After finishing school, and spending a few years as a butcher, Göran became a full time artist. Gradually he began receiving public assignments, one of the biggest being for the Museum of Natural History in Stockholm, where he painted large-scale backdrops for permanent natural history exhibitions. These natural history pieces are called dioramas, and are an educational device dating back to the late 19th century and used in museums where mammals and birds are placed in their natural habitat.
For Göran this was a transformative experience. Painting such backdrops was what Bruno Liljefors was once commissioned to do by the great conservator, hunter, explorer, author and museologist Gustaf Kolthoff. Kolthoff built the Biologiska Museet at Djurgården with the motto 'Scandinavian animals as seen in nature'. Together with Gustav Fjaestad, Liljefors painted the wonderful circular paintings that formed the backdrop to stuffed Swedish fauna. It is with these painters that Göran feels kinship, painters like Zorn, Liljefors and Fjaestad, as if he had missed a century; the tradition he works in, the paintings he admires, a way of seeing, whether anachronistic or not. "Timeless" is how he would describe it himself.
From the outset, Göran was passionate about animals and the environment. Today the infant prodigy is a mature painter. He has remained faithful to his early inspiration and motifs, and he still lives in his own native landscape. Together these form the three cornerstones of his art. In the centre, like the eye of the Trinity, is Hornborga Lake, with marsh and water meadow and birds scattered across the sky.
Down there on the water, he had his boyhood summers. Then a forest of willow and birch waded far out into the lake. Canals cut through the marsh. Later, the water levels were regulated. But then, before the forest disappeared, moose wandered out there. They slept on the mud of the canal banks, lived off the leaves and stood with the lake water up to their withers, munching on lilies and aquatic plants. Lake moose, they were called. Their hooves never wore down and their bellies were shimmering green. "Bright green", says Göran. "The same green as Linda's tableware from Gustavsberg.